Welcome to the world of The Bicycle Waltz (and its sequels At's Amore and All the Way Home).  Explore.  Find answers to frequently asked questions, learn about the history of the novels, find out what's real, and what isn't, in the novels, and more.
For discussions related to The Bicycle Waltz, please visit our Facebook page at:
http://www.facebook.com/TheBicycleWaltz
Thank you,
Paul and Jean Zimmer
Here we are dancing The Bicycle Waltz.  That's Jean in pink.
In Spring of 2018, we created a youtube channel of demo videos for Phase 2/3/4a dancers.  Check it out here or click the image below:
We also have a Zazzle store with lots of dance-related images.  You can put these images on just about anything in Zazzle's huge collection (watch our how-to video here).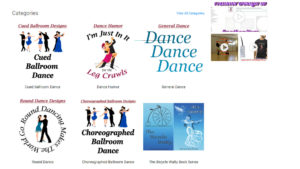 Links to the books on Amazon: